I am asked often about what paint colors are throughout our home, as well as what stains we like to use for our DIYs. So I thought it might be fun to dedicate a post specifically to this, showcasing photos where you spot our favorite neutral paint colors throughout our home!
PAINTS
Ghost Pines by Sherwin Williams (we had ours mixed at Home Depot).
This is the perfect light greige color! I actually went into Home Depot to have Agreeable Gray mixed, but when I started comparing colors, I thought Agreeable Gray might be too dark for our space. Ghost Pines was a shade lighter than Agreeable Gray, but definitely in that same color family. We painted our whole downstairs in this color, minus our shiplap walls, and have never felt anything but love for it!
---
Ultra Pure White in Behr Marquee (matte)
---
Chelsea Gray by Benjamin Moore
(also mixed at Home Depot — noticing a theme here?! lol)
This is such a pretty gray/earthy green, and it looks a little different on every project we use it for. We used it on our dining room accent wall, our son's dresser, and our downstairs bathroom vanity. I adore it every single time!
---
Acacia Haze by Sherwin Williams (mixed at Home Depot!)
I was looking for a grayish green for our bar area when I found this beauty of a color! Depending on the time of day and angle, it can look anywhere from green to gray to blue. It is light, but still makes a statement. Definitely a new favorite paint color!
---
Tricorn Black by Sherwin Williams (annnddddd mixed at Home Depot)
We chose Tricorn Black for our front door and garage door. Yes, we painted the garage door! Love this color.
Columns are stained with a combination of Early American & Ipswich Pine by Varathane. I mixed the stain in small batches. 3/4 Ipswich Pine and the rest Early American.
---
STAINS
White Wash Pickling (both Minwax and Varathane have a version)
I have to include this first, because I use it on almost everything we stain! We use pine on all of our DIYs, and white washing is usually my first step before applying a darker wood stain. This helps to give our DIYs character and a certain weathered look that wouldn't be possible without it!
---
Cordovan Brown by Behr (this is actually an exterior stain that has to be mixed at HD)
I have only ever used this stain with white wash underneath, but it gives the most natural/grayish brown color that I adore. Hands down, this combo is what you will see on the majority of our projects because I love it so much! We've stained both of our DIY fireplace mantles with this combo. Something about this exterior stain on top of the whitewash gives such a distressed look that I haven't been able to achieve with anything else.
UPDATE :
Our mantle has actually been sanded down and re-stained with white wash pickling and a combination of weathered oak and special walnut!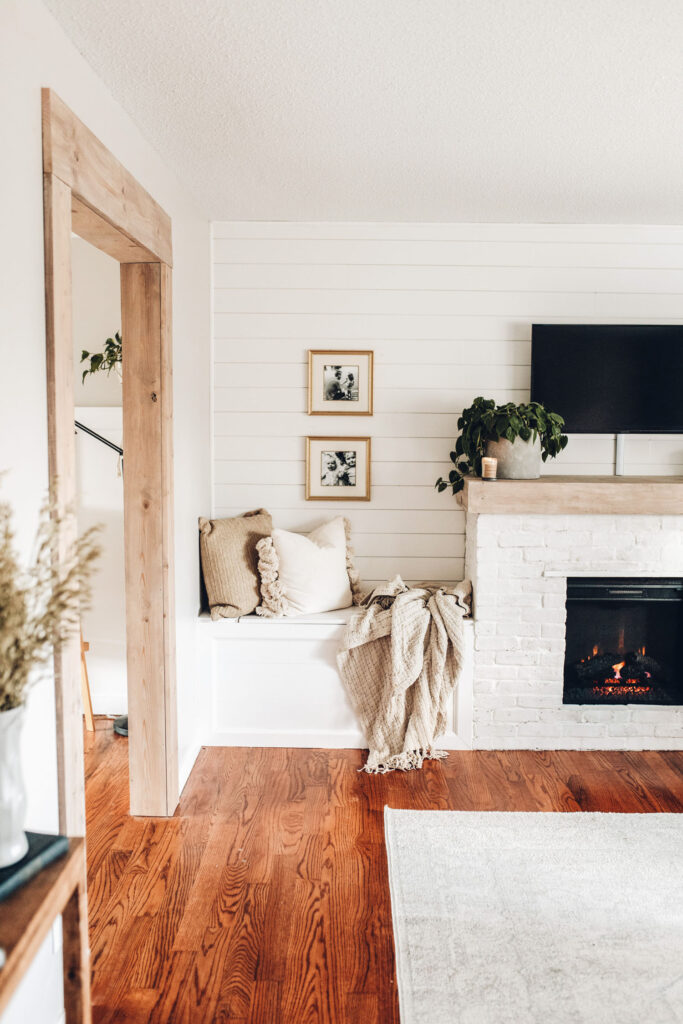 We stained our beam doorway in the same combination. White wash pickling and combo of special walnut and weathered oak!
---
Special Walnut
This is one of my favorite stains for when I want something to have a warmer or more traditional feel. I will also mix it into my cordovan brown and white wash combo when I want to warm it up!
And as seen below on our son's nursery shelves — one of my favorite new combos! White wash pickling with one coat of Special Walnut. It gives such a pretty, natural color!
I am not afraid to mix wood colors in a room, as you can see! I actually think it provides a certain coziness and warmth.
I do recommend testing colors in your home before purchasing! I love Agreeable Gray in other people's homes, but it didn't look quite right in mine. So it's always a good choice to buy a sample of paint first, or test stain on a small piece of scrap wood, before diving in!